Visual and Inertial Odometry
IMU Preintegration on Manifold for Efficient Visual-Inertial Maximum-a-Posteriori Estimation
Recent results in monocular visual-inertial navigation (VIN) have shown that optimization-based approaches outperform filtering methods in terms of accuracy due to their capability to relinearize past states. However, the improvement comes at the cost of increased computational complexity. In this paper, we address this issue by preintegrating inertial measurements between selected keyframes. The preintegration allows us to accurately summarize hundreds of inertial measurements into a single relative motion constraint. Our first contribution is a preintegration theory that properly addresses the manifold structure of the rotation group and carefully deals with uncertainty propagation. The measurements are integrated in a local frame, which eliminates the need to repeat the integration when the linearization point changes while leaving the opportunity for belated bias corrections. The second contribution is to show that the preintegrated IMU model can be seamlessly integrated in a visual-inertial pipeline under the unifying framework of factor graphs. This enables the use of a structureless model for visual measurements, further accelerating the computation. The third contribution is an extensive evaluation of our monocular VIN pipeline: experimental results confirm that our system is very fast and demonstrates superior accuracy with respect to competitive state-of-the-art filtering and optimization algorithms, including off-the-shelf systems such as Google Tango.
References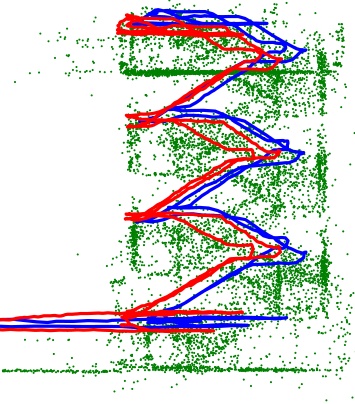 On-Manifold Preintegration for Real-Time Visual-Inertial Odometry
IEEE Transactions on Robotics, in press, 2016.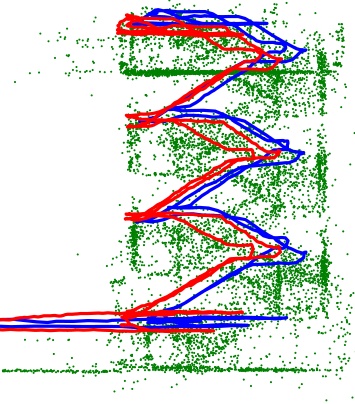 IMU Preintegration on Manifold for Efficient Visual-Inertial Maximum-a-Posteriori Estimation
Robotics: Science and Systems (RSS), Rome, 2015.
Best Paper Award Finalist! Oral Presentation: Acceptance Rate 4%
SVO: Fast Semi-Direct Monocular Visual Odometry
We propose a semi-direct monocular visual odometry algorithm that is precise, robust, and faster than current state-of-the-art methods. The semi-direct approach eliminates the need of costly feature extraction and robust matching techniques for motion estimation. Our algorithm operates directly on pixel intensities, which results in subpixel precision at high frame-rates. A probabilistic mapping method that explicitly models outlier measurements is used to estimate 3D points, which results in fewer outliers and more reliable points. Precise and high frame-rate motion estimation brings increased robustness in scenes of little, repetitive, and high-frequency texture. The algorithm is applied to micro-aerial-vehicle stateestimation in GPS-denied environments and runs at 55 frames per second on the onboard embedded computer and at more than 300 frames per second on a consumer laptop.
---
This video shows results from a modification of the SVO algorithm that generalizes to a set of rigidly attached (not necessarily overlapping) cameras. Simultaneously, we run a CPU implementation of the REMODE algorithm on the front, left, and right camera. Everything runs in real-time on a laptop computer. Parking garage dataset courtesy of NVIDIA.
References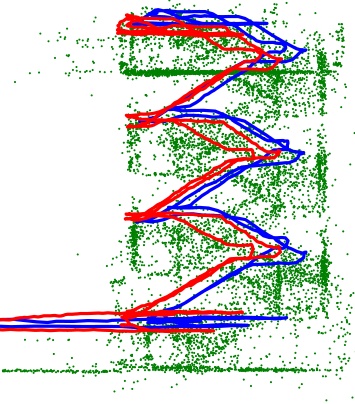 SVO: Semi-Direct Visual Odometry for Monocular and Multi-Camera Systems
IEEE Transactions on Robotics, Vol. 33, Issue 2, pages 249-265, Apr. 2017.
Includes comparison against ORB-SLAM, LSD-SLAM, and DSO and comparison among Dense, Semi-dense, and Sparse Direct Image Alignment.
SVO: Fast Semi-Direct Monocular Visual Odometry
IEEE International Conference on Robotics and Automation (ICRA), Hong Kong, 2014.
1-point RANSAC
Given a car equipped with an omnidirectional camera, the motion of the vehicle can be purely recovered from salient features tracked over time. We propose the 1-Point RANSAC algorithm which runs at 800 Hz on a normal laptop. To our knowledge, this is the most efficient visual odometry algorithm.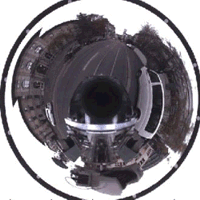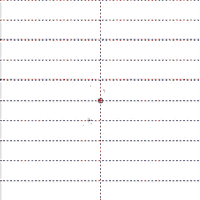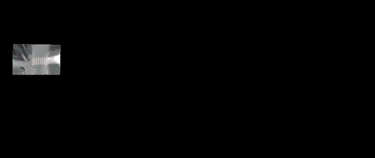 ---
This video shows the estimation of the vehicle motion from image features. The video demonstrate the approach described in our paper which uses 1-point RANSAC algorithm to remove the outliers. Except for the features extraction process, the outlier removal and the motion estimation steps take less than 1mm on a normal laptop computer.
References