Davide Scaramuzza
Professor and Director of the Robotics and Perception Group
---
Biography
---
Davide Scaramuzza (born in 1980, Italian) is Professor of Robotics and Perception at both departments of Informatics (University of Zurich) and Neuroinformatics (University of Zurich and ETH Zurich), where he does research at the intersection of robotics, computer vision, and neuroscience. Specifically he investigates the use of standard and neuromorphic cameras to enable autonomous, agile, navigation of micro drones in search-and-rescue scenarios. He did his PhD in robotics and computer vision at ETH Zurich (with Roland Siegwart) and a postdoc at the University of Pennsylvania (with Vijay Kumar and Kostas Daniilidis). From 2009 to 2012, he led the European project sFly, which introduced the PX4 autopilot and pioneered visual-SLAM-based autonomous navigation of micro drones. For his research contributions in vision-based navigation with standard and neuromorphic cameras, he was awarded the IEEE Robotics and Automation Society Early Career Award, the SNSF-ERC Starting Grant, a Google Research Award, KUKA, Qualcomm, and Intel awards, the European Young Research Award, the Misha Mahowald Neuromorphic Engineering Award, and several conference paper awards. He coauthored the book "Introduction to Autonomous Mobile Robots" (published by MIT Press; 10,000 copies sold) and more than 100 papers on robotics and perception published in top-ranked journals (TRO, PAMI, IJCV, IJRR) and conferences (RSS, ICRA, CVPR, ICCV). In 2015, he cofounded a venture, called Zurich-Eye, dedicated to the commercialization of visual-inertial navigation solutions for mobile robots, which later became Facebook-Oculus Switzerland and Oculus' European research hub. He was also the strategic advisor of Dacuda, an ETH spinoff dedicated to inside-out VR solutions, which later became Magic Leap Zurich. Many aspects of his research have been prominently featured in the popular press, such as Discovery Channel, BBC, IEEE Spectrum, MIT Technology Review Magazine.
Contributions
Davide Scaramuzza is most known for:
Awards
---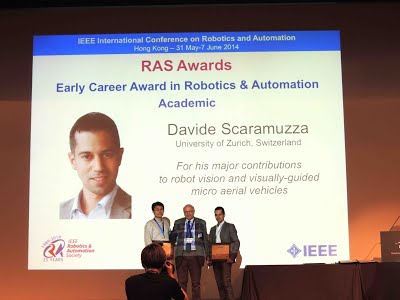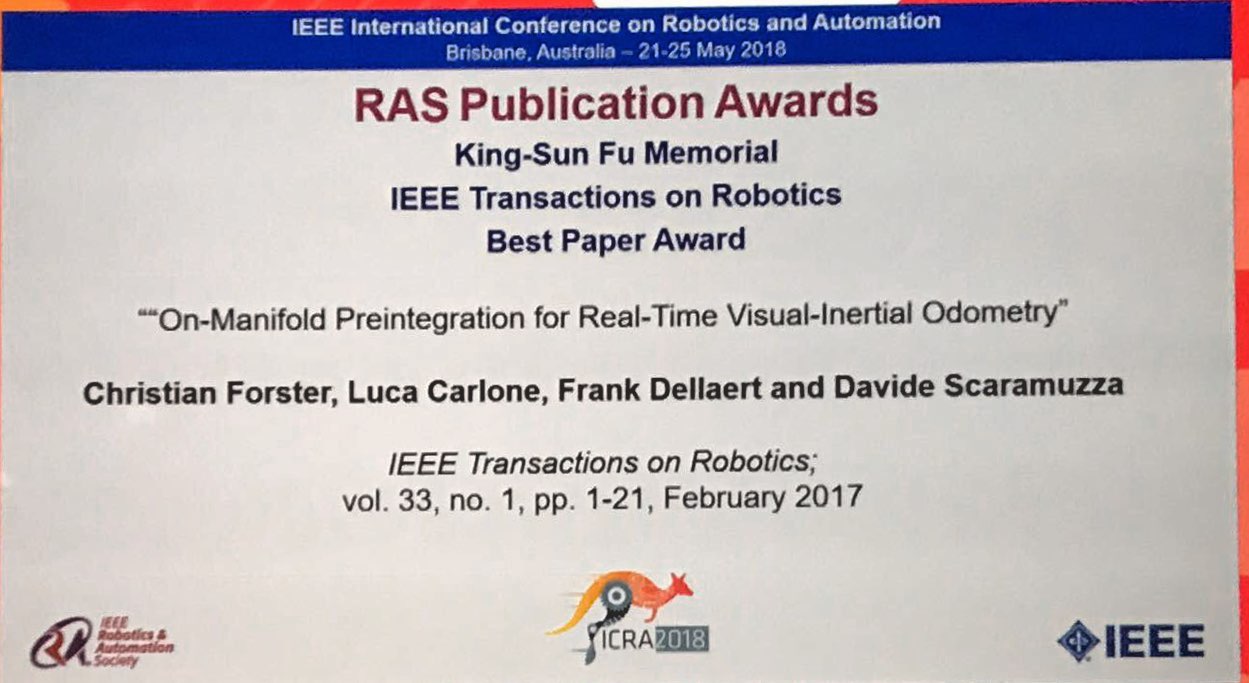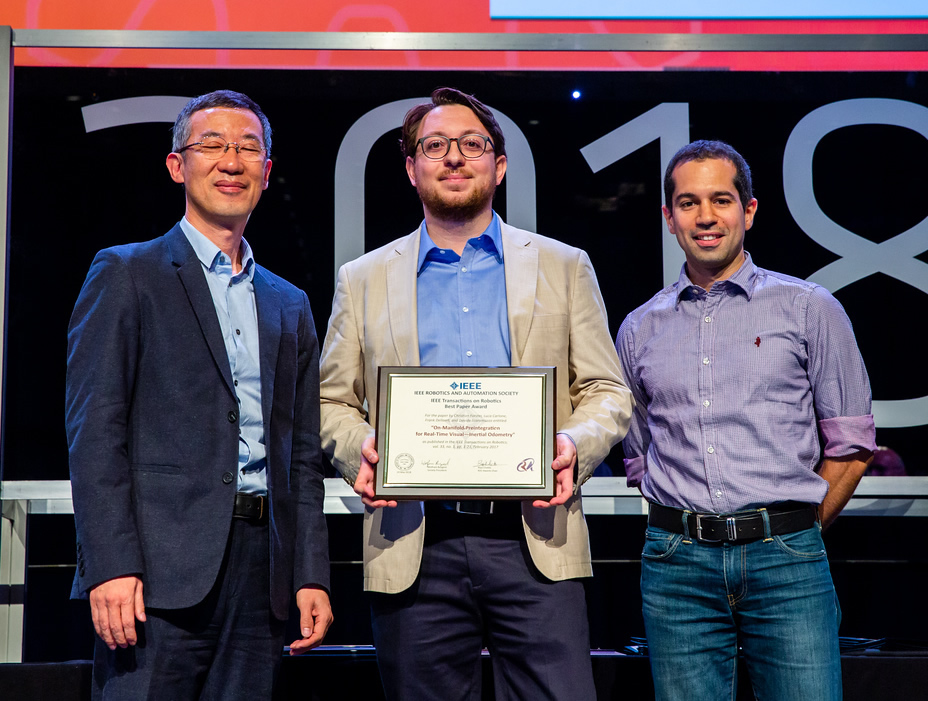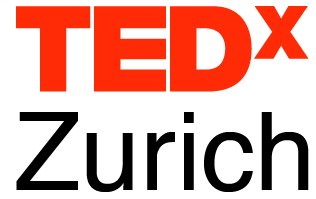 2018.05.14 - IEEE TRO Best Paper Award, PDF, Press coverage
2018.05.10 - Qualcomm Innovation Fellowship for Henri Rebecq (40k Euros)
2018.03.14 - EURobotic Georges Giralt PhD Thesis Award finalist for Dr. Christian Forster)
2017.09.27 - IROS 2017 Autonomous Drone Race 2nd place winner
2017.09.27 - IROS 2017 Safety Security and Rescue Robotics Paper Award finalist
2017.07.01 - Intel Network of Intelligent System Award (170k USD)
2017.06.01 - RSS' 17 Best Student Paper Award Finalist
2017.06.01 - Misha Mahowald Prize for Neuromorphic Engineering, for our "pathbreaking applications of neuromorphic engineering to robot navigation"
2017.03.01 - EU Robotics Transfer Award to Fotokite
2016.05.12 - Qualcomm Innovation Fellowship for Elias Mueggler (40k Euros)
2016.10.01 - IROS'16 Best Application Paper Finalist
2016.09.20 - BMVC'16 Best Industry Paper Award
2016.03.30 - AAAI Video Award nomination
2015.06.01 - RSS'15 Best Paper Award finalist!
2014.11.21 - SNSF-ERC Starting Grant (1.5 million EUR for 5 years)
2014.06.01 - IEEE Robotics and Automation Society Early Career Award for my "major contributions to robot vision and visually-guided micro aerial vehicles".
2014.06.01 - KUKA Innovation Award (20,000 EUR)
2014.04.01 - Google Research Award
2012.06.01 - European Young Researcher Award 2012 - Sponsored by EU and Euroscience
2010.03.30 - Finalist of the George Giralt EURON PhD award (for the best European PhD thesis)
2009.09.09 - ROBOTDALEN Scientific Award for my PhD thesis. Sponsored by EU, IEEE, ABB.
2009.09.09 - European Micro Aerial Vehicle competition.
2005.04.01 - FEDERCOMIN-AICA Master thesis Award (best Italian Master thesis in ICT).
2004.07.02 - Best student of the year Award (800 EUR), Ternana Opera Educatrice, Terni, Italy.
1998.06.01 - Finalist at the Italian Mathematical Olympiads, Cesenatico, Italy
Talks
---
2018
2018.10.26 - Univesity of Maryland - Lockheed Martin Robotics Seminar, College Park (invited seminar)
2018.10.05 - IROS18 Workshop on Alternative Sensing for Robotics, (keynote speaker)
2018.10.05 - IROS18 Workshop Vision-based Drones: What's next?, (co-organizer)
2018.09.17 - Khalifa University, Abu Dhabi, (invited seminar)
2018.09.04 - INTEL Network of Intelligent System Workshop, Munich (keynote speaker)
2018.07.10 - MIT Media Lab, Advances in Imaging Series, (invited remote seminar (Skype))
2018.06.12 - 2nd International Symposium on Aerial Robotics (keynote speaker)
2018.06.04 - ISPRS18 TC II Symposium Towards Photogrammetry 2020, Italy, Riva del Garda, (keynote speaker), Slides
2018.05.25 - ICRA18 Workshop on The interplay between optimal estimation for improved action and optimal action for improved estimation, Brisbane, (keynote speaker)
2018.05.25 - ICRA18 Workshop on Aerial Robotic Inspection and Maintenance: Research Challenges, Field Experience and Industry Needs, (keynote speaker)
2018.05.21 - ICRA18 Workshop on Reproducible Research in Robotics, Brisbane, (keynote speaker)
2018.05.04 - IST Austria Young Scientist Symposium (plenary speaker)<\li>
2018.04.18 - SPIE Defense and Security Conference, Session on Neuromorphic Sensing, Orlando, (keynote speaker)
2018.04.18 - Princeton University (invited seminar)
2018.04.13 - University of Souther Denmark (invited seminar)
2018.03.13 - ERF18 Workshop on Aerial Robotics for Industrial Inspection, Maintenance & Transportation, Tampere, Mar., 2018 (keynote speaker)
2018.02.05 - Computer Vision Winter Workshop, Prague, (keynote speaker)
Book
---
I was the main author of this second edition to which I dedicated a full year of intense writing and literature research. This second edition has been revised and updated throughout, with 130 pages of new material on such topics as locomotion, perception, localization, and planning and navigation. Problem sets have been added at the end of each chapter. Bringing together all aspects of mobile robotics into one volume, Introduction to Autonomous Mobile Robots can serve as a textbook or a working tool for beginning practitioners in their Master or PhD programs.
Introduction to autonomous mobile robots 2nd Edition (hardback)
A Bradford Book, The MIT Press, ISBN: 978-0-262-01535-6, February, 2011
---
Hobbies
---
In my free time, I like playing piano and magic tricks. My passion for Magic was born at age 14. I paid my undegraduate studies working part-time as magician in restaurants, bars, and children parties, but I also did several performances on stage in public squares and theatres. Nowadays, I still play magic tricks for colleagues and friends and it has almost become a tradition during the social banquets of robotics conferences (usually ICRA and IROS) ;-) Below, you can see one of my latest show during the Scientifica Science Festival at ETH Zurich. If you would like to see more, you can check out my personal YouTube channel! But notice that, if you are looking for robot videos, then you should check out my lab's YouTube channel! Here, you can read my interview from NCCR Robotics about my hobby and how I decided to follow the academic career (LINK)!
---
Contact
---
Address: University of Zurich, Andreasstrasse 15, Office 2.10, 8050 Zurich, Switzerland Email: sdavide (at) ifi (dot) uzh (dot) ch (NB: for INTERNSHIP, PhD, and Postdoc applications, please read below) Phone: +41 44 635 24 09
INTERNSHIP applications: If you are seeking an internship in my lab you need to be enrolled in a Master program in your university. Applications from Bachelor students will not be answered. If you are a Master student and you wish to apply, please send me: 1) Your CV; 2) Transcripts of your Bachelor and Master grades; 3) a 2-page proposal containing: a) a description of the project you intend to do in my lab which is relevant to my research; b) comments on your experience in the area; c) related work, and d) a timeline of the project from the start to the end. Please make sure everything fits in two A4 page. Please do not send me reminders asking me the status of your application. I will never answer. I will answer only in case of positive feedback.
PhD and Postdoc applications: check out my open positions here. Please notice that unsolicited applications will not be answered.