Drone Racing
Drone racing is a popular sport in which professional pilots fly small quadrotors through complex tracks at high speeds. Developing a fully autonomous racing drone is difficult due to challenges that span dynamics modeling, onboard perception, localization and mapping, trajectory generation, and optimal control. In this page, we summarize our research on this topic.
---
Autonomous Drone Racing with Deep Reinforcement Learning
In many robotic tasks, such as drone racing, the goal is to travel through a set of waypoints as fast as possible. A key challenge for this task is planning the minimum-time trajectory, which is typically solved by assuming perfect knowledge of the waypoints to pass in advance. The resulting solutions are either highly specialized for a single-track layout, or suboptimal due to simplifying assumptions about the platform dynamics. In this work, a new approach to minimum-time trajectory generation for quadrotors is presented. Leveraging deep reinforcement learning and relative gate observations, this approach can adaptively compute near-time-optimal trajectories for random track layouts. Our method exhibits a significant computational advantage over approaches based on trajectory optimization for non-trivial track configurations. The proposed approach is evaluated on a set of race tracks in simulation and the real world, achieving speeds of up to 17 m/s with a physical quadrotor.
References
AutoTune: Controller Tuning for High-Speed Flight

Due to noisy actuation and external disturbances, tuning controllers for high-speed flight is very challenging. In this paper, we ask the following questions: How sensitive are controllers to tuning when tracking high-speed maneuvers? What algorithms can we use to automatically tune them? To answer the first question, we study the relationship between parameters and performance and find out that the faster the maneuver, the more sensitive a controller becomes to its parameters. To answer the second question, we review existing methods for controller tuning and discover that prior works often perform poorly on the task of high-speed flight. Therefore, we propose AutoTune, a sampling-based tuning algorithm specifically tailored to high-speed flight. In contrast to previous work, our algorithm does not assume any prior knowledge of the drone or its optimization function and can deal with the multi-modal characteristics of the parameters' optimization space. We thoroughly evaluate AutoTune both in simulation and in the physical world. In our experiments, we outperform existing tuning algorithms by up to 90\% in trajectory completion. The resulting controllers are tested in the AirSim Game of Drones competition, where we outperform the winner by up to 25\% in lap-time. Finally, we show that AutoTune improves tracking error when flying a physical platform with respect to parameters tuned by a human expert.
References
Human-Piloted Drone Racing: Visual Processing and Control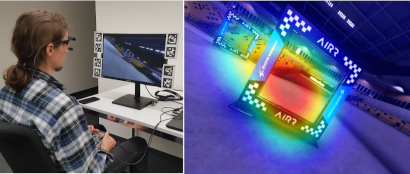 Humans race drones faster than algorithms, despite being limited to a fixed camera angle, body rate control, and response latencies in the order of hundreds of milliseconds. A better understanding of the ability of human pilots of selecting appropriate motor commands from highly dynamic visual information may provide key insights for solving current challenges in vision-based autonomous navigation. This paper investigates the relationship between human eye movements, control behavior, and flight performance in a drone racing task. We collected a multimodal dataset from 21 experienced drone pilots using a highly realistic drone racing simulator, also used to recruit professional pilots. Our results show task-specific improvements in drone racing performance over time. In particular, we found that eye gaze tracks future waypoints (i.e., gates), with first fixations occurring on average 1.5 seconds and 16 meters before reaching the gate. Moreover, human pilots consistently looked at the inside of the future flight path for lateral (i.e., left and right turns) and vertical maneuvers (i.e., ascending and descending). Finally, we found a strong correlation between pilots eye movements and the commanded direction of quadrotor flight, with an average visual-motor response latency of 220 ms. These results highlight the importance of coordinated eye movements in human-piloted drone racing. We make our dataset publicly available.
References
Data-Driven MPC for Quadrotors
Aerodynamic forces render accurate high-speed trajectory tracking with quadrotors extremely challenging. These complex aerodynamic effects become a significant disturbance at high speeds, introducing large positional tracking errors, and are extremely difficult to model. To fly at high speeds, feedback control must be able to account for these aerodynamic effects in real-time. This necessitates a modelling procedure that is both accurate and efficient to evaluate. Therefore, we present an approach to model aerodynamic effects using Gaussian Processes, which we incorporate into a Model Predictive Controller to achieve efficient and precise real-time feedback control, leading to up to 70% reduction in trajectory tracking error at high speeds. We verify our method by extensive comparison to a state-of-the-art linear drag model in synthetic and real-world experiments at speeds of up to 14m/s and accelerations beyond 4g.
References
Flightmare: A Flexible Quadrotor Simulator
Currently available quadrotor simulators have a rigid and highly-specialized structure: either are they really fast, physically accurate, or photo-realistic. In this work, we propose a paradigm-shift in the development of simulators: moving the trade-off between accuracy and speed from the developers to the end-users. We release a new modular quadrotor simulator: Flightmare. Flightmare is composed of two main components: a configurable rendering engine built on Unity and a flexible physics engine for dynamics simulation. Those two components are totally decoupled and can run independently from each other. Flightmare comes with several desirable features: (i) a large multi-modal sensor suite, including an interface to extract the 3D point-cloud of the scene; (ii) an API for reinforcement learning which can simulate hundreds of quadrotors in parallel; and (iii) an integration with a virtual-reality headset for interaction with the simulated environment. Flightmare can be used for various applications, including path-planning, reinforcement learning, visual-inertial odometry, deep learning, human-robot interaction, etc.
References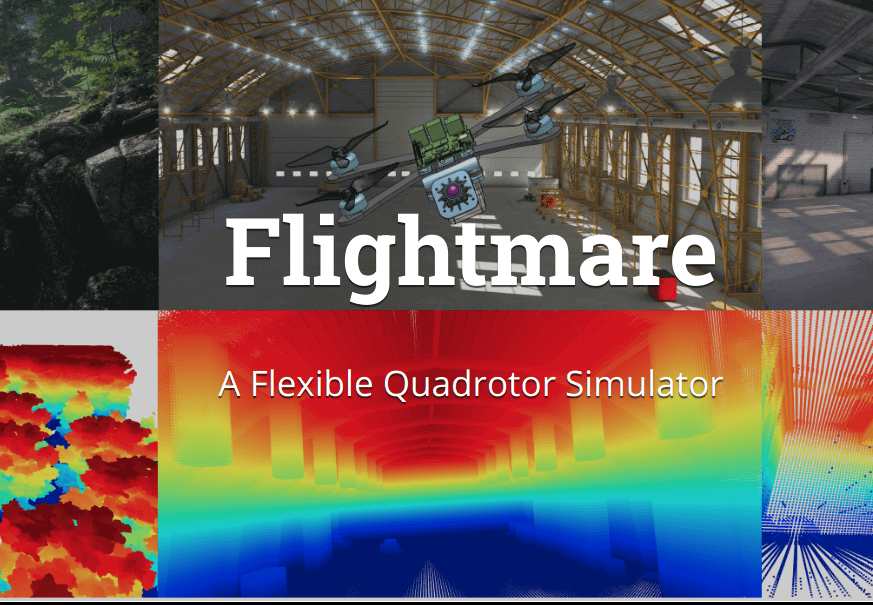 Flightmare: A Flexible Quadrotor Simulator
Conference on Robot Learning (CoRL), 2020
Time-Optimal Quadrotor Trajectories
In many mobile robotics scenarios, such as drone racing, the goal is to generate a trajectory that passes through multiple waypoints in minimal time. This problem is referred to as time-optimal planning. State-of-the-art approaches either use polynomial trajectory formulations, which are suboptimal due to their smoothness, or numerical optimization, which requires waypoints to be allocated as costs or constraints to specific discrete-time nodes. For time-optimal planning, this time-allocation is a priori unknown and renders traditional approaches incapable of producing truly time-optimal trajectories. We introduce a novel formulation of progress bound to waypoints by a complementarity constraint. While the progress variables indicate the completion of a waypoint, change of this progress is only allowed in local proximity to the waypoint via complementary constraints. This enables the simultaneous optimization of the trajectory and the time-allocation of the waypoints. To the best of our knowledge, this is the first approach allowing for truly time-optimal trajectory planning for quadrotors and other systems. We perform and discuss evaluations on optimality and convexity, compare to other related approaches, and qualitatively to an expert-human baseline.
References
AlphaPilot: Autonomous Drone Racing
We present a novel system for autonomous, vision-based drone racing combining learned data abstraction, nonlinear filtering, and time-optimal trajectory planning. The system has successfully been deployed at the first autonomous drone racing world championship: the 2019 AlphaPilot Challenge. Contrary to traditional drone racing systems, that only detect the next gate, our approach makes use of any visible gate and takes advantage of multiple, simultaneous gate detections to compensate for drift in the state estimate and build a global map of the gates. The global map and drift-compensated state estimate allow the drone to navigate through the race course even when the gates are not immediately visible and further enable to plan a near time-optimal path through the race course in real time based on approximate drone dynamics. The proposed system has been demonstrated to successfully guide the drone through tight race courses reaching speeds up to 8m/s and has led to rank second at the 2019 AlphaPilot Challenge.
References
AlphaPilot: Autonomous Drone Racing
Robotics: Science and Systems (RSS), 2020
Towards Low-Latency High-Bandwidth Control of Quadrotors using Event Cameras
Event cameras are a promising candidate to enable high speed vision-based control due to their low sensor latency and high temporal resolution. However, purely event-based feedback has yet to be used in the control of drones. In this work, a first step towards implementing low-latency high-bandwidth control of quadrotors using event cameras is taken. In particular, this paper addresses the problem of one-dimensional attitude tracking using a dualcopter platform equipped with an event camera. The event-based state estimation consists of a modified Hough transform algorithm combined with a Kalman filter that outputs the roll angle and angular velocity of the dualcopter relative to a horizon marked by a black-and-white disk. The estimated state is processed by a proportional-derivative attitude control law that computes the rotor thrusts required to track the desired attitude. The proposed attitude tracking scheme shows promising results of event-camera-driven closed loop control: the state estimator performs with an update rate of 1 kHz and a latency determined to be 12 ms, enabling attitude tracking at speeds of over 1600 degrees per second.
References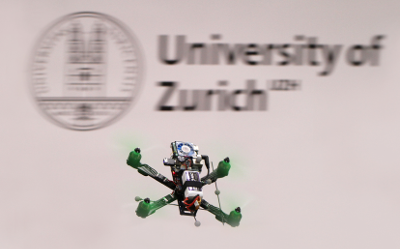 Towards Low-Latency High-Bandwidth Control of Quadrotors using Event Cameras
IEEE International Conference on Robotics and Automation (ICRA), 2020
Deep Drone Racing: From Simulation to Reality with Domain Randomization
Dynamically changing environments, unreliable state estimation, and operation under severe resource constraints are fundamental challenges for robotics, which still limit the deployment of small autonomous drones. We address these challenges in the context of autonomous, vision-based drone racing in dynamic environments. A racing drone must traverse a track with possibly moving gates at high speed. We enable this functionality by combining the performance of a state-of-the-art path-planning and control system with the perceptual awareness of a convolutional neural network (CNN). The CNN directly maps raw images to a desired waypoint and speed. Given the CNN output, the planner generates a short minimum-jerk trajectory segment that is tracked by a model-based controller to actuate the drone towards the waypoint. The resulting modular system has several desirable features: (i) it can run fully on-board, (ii) it does not require globally consistent state estimation, and (iii) it is both platform and domain independent. We extensively test the precision and robustness of our system, both in simulation and on a physical platform. In both domains, our method significantly outperforms the prior state of the art. In order to understand the limits of our approach, we additionally compare against professional human drone pilots with different skill levels.
References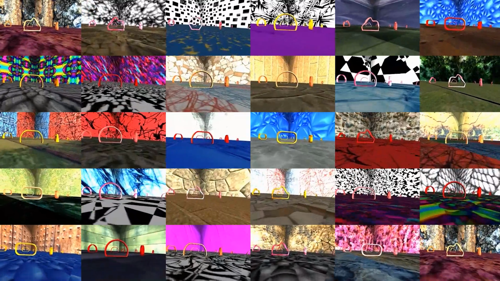 Deep Drone Racing: From Simulation to Reality with Domain Randomization
IEEE Transactions on Robotics, 2019
PDF
YouTube 1
YouTube 2
Code
Beauty and the Beast: Optimal Methods Meet Learning for Drone Racing
Autonomous micro aerial vehicles still struggle with fast and agile maneuvers, dynamic environments, imperfect sensing, and state estimation drift. Autonomous drone racing brings these challenges to the fore. Human pilots can fly a previously unseen track after a handful of practice runs. In contrast, state-of-the-art autonomous navigation algorithms require either a precise metric map of the environment or a large amount of training data collected in the track of interest. To bridge this gap, we propose an approach that can fly a new track in a previously unseen environment without a precise map or expensive data collection. Our approach represents the global track layout with coarse gate locations, which can be easily estimated from a single demonstration flight. At test time, a convolutional network predicts the poses of the closest gates along with their uncertainty. These predictions are incorporated by an extended Kalman filter to maintain optimal maximum-a-posteriori estimates of gate locations. This allows the framework to cope with misleading high-variance estimates that could stem from poor observability or lack of visible gates. Given the estimated gate poses, we use model predictive control to quickly and accurately navigate through the track. We conduct extensive experiments in the physical world, demonstrating agile and robust flight through complex and diverse previously-unseen race tracks. The presented approach was used to win the IROS 2018 Autonomous Drone Race Competition, outracing the second-placing team by a factor of two.
References
The UZH-FPV Drone Racing Dataset
Despite impressive results in visual-inertial state estimation in recent years, high speed trajectories with six degree of freedom motion remain challenging for existing estimation algorithms. Aggressive trajectories feature large accelerations and rapid rotational motions, and when they pass close to objects in the environment, this induces large apparent motions in the vision sensors, all of which increase the difficulty in estimation. Existing benchmark datasets do not address these types of trajectories, instead focusing on slow speed or constrained trajectories, targeting other tasks such as inspection or driving.
We introduce the UZH-FPV Drone Racing dataset, consisting of over 27 sequences, with more than 10 km of flight distance, captured on a first-person-view (FPV) racing quadrotor flown by an expert pilot. The dataset features camera images, inertial measurements, event-camera data, and precise ground truth poses. These sequences are faster and more challenging, in terms of apparent scene motion, than any existing dataset. Our goal is to enable advancement of the state of the art in aggressive motion estimation by providing a dataset that is beyond the capabilities of existing state estimation algorithms.
References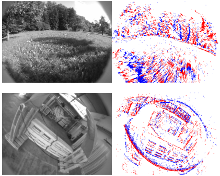 Are We Ready for Autonomous Drone Racing? The UZH-FPV Drone Racing Dataset
IEEE International Conference on Robotics and Automation (ICRA), 2019.